Check your NECO Result 2021 checker portal as National Examination Council Release SSCE result via its my NECO exam result portal. Candidates who participated in the Examination can now check NECO online result 2021 by purchasing result checker scratch card.
To Check your National examination council results 2021, follow the steps stated below.
This article will guide you on how to check how NECO SSCE  result and answer questions to problems that may arise in the course if you trying to check your result online which may include
Recommended: WAEC Result 2021 Checker Portal – How To Check WAEC online result For Free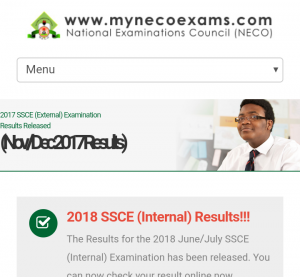 About NECO Result 2021 
This Results have not been released yet. NECO June/July examination is the examination taken by candidates in their last stage of Secondary School Education. We will update you once the NECO 2021 result is available online for the public. At this moment NECO coordination / marking is ongoing nationwide. You can bookmark this page to get free update on when this result is ready, alternatively, you can click Here to subscribe to our blog update.
How To Check

NECO

Result 2021 
Visit https://result.neco.gov.ng/.
Pick your exam year. i.e. 2019
Pick your exam type. i.e. SSCE INTERNAL (JUN/JUL)
Enter your Token Number and registration number in the appropriate columns.
Finally, click on check result button to access your result.
Candidates are advised to get the result checking token from website.
Please Note: This Token can be used for 5 times for one Exam Number ONLY
How can I get my NECO  token?
Follow the steps below to Purchase a token and check your results:
Visit the NECO page: result.neco.gov.ng.
Click on PURCHASE TOKEN button,
Enter your login details. …
Click on 'PURCHASE TOKEN' either on the side menu or on your Dashboard.
Enter the number of tokens you wish to buy and click on PAY NOW.
Please Note: The 2020 result is now released.  ***
NECO 'No CA 3' Issue
What does No CA 3 mean: It means your school did not upload their Students continuous assessment 3 on our database and by such the result of such candidate will not be released.
How can I solve it: Go to the office where your candidates wrote the exam and you are required to pay Twenty Thousand Naira for the last submission all payments must be made into NECO TSA ACCOUNT.
For more update on my NECO 2021 Result, use the comment box below and we promise to respond to your query as fast as we can.